Building the digital layer for the physical world
About us
With future wearable devices - currently being built by Apple, Meta and others - the real world will become filled with rich digital overlays of information. Much like in every sci-fi movie we've seen, this new technology will become as useful and dependable as the internet is today.
We're building the technology layer which integrates with every location, allowing businesses to serve up these digital experiences for every visitor. Whether it's in retail, or airports, or offices, or museums - our technology will power the next-generation of interaction.
We're starting today on mobile, and in retail stores, where we can help people to find items in-store - with a map that knows where everything is, and by locating the user with the highest level of precision. Check this video to see how it works: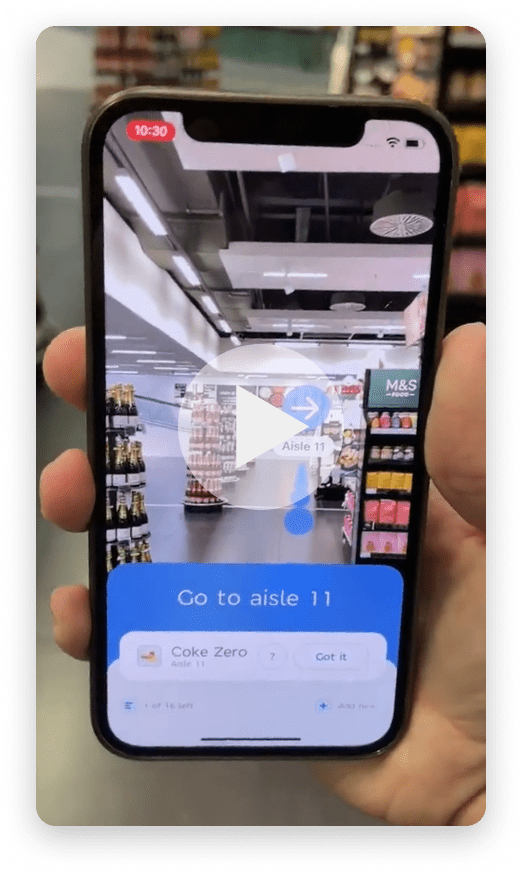 The challenges here are hard and rewarding. Every day, our team is collaborating across different skill sets to explore new problems and build innovative solutions. If you're passionate, driven and looking for the opportunity to have a huge impact solving hard problems, we want to speak to you.

Who we are
Our team is led by pioneers in AR, mapping and location technologies. We previously built the largest open-source project for Apple's AR platform (5k stars on GitHub), enabling thousands of developers to build world-scale AR apps. And we have decades of product experience across organisations like Dyson, Esri, Ordnance Survey and Shopmatic.
We're backed by the first investors into Oculus, founders of large platforms such as Indeed, Tumblr and Applovin, as well as execs from Foursquare and Citymapper.
We partner with some of the largest mapping apps and technology companies in the world, giving us the opportunity to work with the latest innovations.
We're always looking for the next innovative and ambitious new members of our team. Even if there isn't an open role that fits what you do, we'd love to find out more about you.
Email us: hiring@hyperar.com

What others have to say about us
Hyper is going to be the next big leap for consumer tech. It will give us the superpower of ambient context. This will be most important for navigation which is why I'm so excited about what Hyper is building: a future in which we can seamlessly navigate indoors as if we are an insider everywhere.

Omid Ashtari

Ex-President of CityMapper

Hyper is one of the most exciting tech companies I've come across. Solving precision search for the real world is a huge, global opportunity, and the team already has impressive traction. I'm delighted to be an investor.

Paul Forster

Ex-CEO/Founder of Indeed.com

Hyper is pioneering a major technological shift, taking technology beyond the screen and transforming how we interact with the physical world. They're a passionate, resilient and friendly team destined for big things.

Reem Wyndham

Experienced institutional and angel investor

Hyper's technology has the potential to revolutionise billions of real-world interactions, making the world a much more informative, convenient and engaging place for everyone. This is a rare opportunity to join a game-changing start up - take it if you can!

Brian Sugar

Managing Partner at Sugar Capital

I'm very impressed by the vision, the technology and the team at Hyper. Creating the digital layer for the physical world is clearly an enormous opportunity, and one that could fundamentally impact the lives of countless people around the world. I'm extremely excited to be part of this journey with the company.

Martin Gould

Ex-Head of Product at Spotify

Hyper is bringing bits and atoms together in ways that will make us wonder how we ever lived without AR! If you want to be at the cutting edge of building the future, then Hyper is the place to be.

Michael Tefula

Head of Finance at CIRCA5000 and ex-VC